K9 Anti-Poaching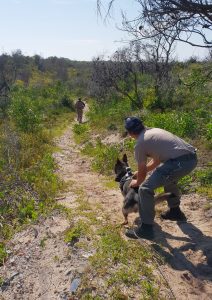 Your role as a volunteer
Poaching is a major problem in many areas of Africa. Rhinos and elephants, whose horns and tusks are an attractive merchandise, have declined markedly in numbers. This is a big problem and it is estimated that both species may soon be exterminated if this damaging poaching is not stopped. This project is located outside Port Elizabeth and at this dog center dogs are trained for rescue missions, to find drugs and explosives or to be sold to organizations or park rangers who work to counter poaching around the continent.
Your role as a volunteer at the dog center is mainly to help with the center's dogs, both with grooming and training, and tasks can include:
Play with- and activate the dogs
Clean cages
Take the dogs for walks
Grooming the dogs
Train the dogs
As a volunteer, you are a big part of the canine training and thus you have a great influence of the future of rhinos and elephants. This project is perfect for those who want to make a difference in the fight against poaching and for those who love dogs.
There may be other assignments on the project from time to time, such as caring for the center's other animals, hens, horses and sheep, as well as light gardening activities and management of the area and constructions.
Partner
We work with a local organization in South Africa who has received volunteers for a long time. Thanks to this collaboration, Volunteer Travel can offer you a well-organized and safe experience as a volunteer. It is a guaranteed meaningful stay, both for you as a volunteer and for the local people and those who work every day at the project.
Your everyday life as a volunteer
Staff from the centre will welcome you at the airport and drive you to the project. After you arrive at the project site, staff will present the centre, the work and your surroundings. They will answer all the questions you might have and make sure you get a good start!
Your working days will start around 7.30 in the morning and you work all day with a long break of two hours for lunch and a little rest. You have at least two free days a week, on these there is plenty of time to explore your surroundings or go on smaller trip.
Accommodation and Food
The accommodation is adjacent to the center, you will stay together in the volunteer accommodation with other volunteers. The rooms include a fan for the hot summer days and a heater for the slightly cooler as well as bedding. Toilet and shower facilities are available at dormitory as well as a washing machine and dryer. Internet is available all over the center, the connection is good, but the standard can be a little different than what you are accustomed to here at home.
You will get three meals a day. Are you allergic to something or have special dietary requirements the project can arrange this, but it is important that you communicate this to us when you sign up for the project.
Leisure
In your spare time there are several things to do in the local area. Almost every day there is someone who goes into town and there is the opportunity to go with, to shop if you miss something or spend some time in Port Elizabeth. Around the area there is also a wide variety of beaches, local game reserves, shops and museums. There is also the opportunity to participate in the excursions the project arranges about once a month, a small additional fee may apply to these.
Experience More!
There is always time to explore your surroundings and discover the country you volunteer in. The Project is located outside Port Elizabeth and there are opportunities to scuba dive, sand surf or go on a safari. The staff at the project will be happily help you to plan and book excursions or activities if you wish!
About South Africa
South Africa is one of Africa's Most exciting countries. The country is an interesting mix of Europe, Africa and Asia, nature is grand and full of contrasts. When you travel in South Africa you will surely get the feeling that you are moving between different continents. South Africa is called "The rainbow nation", and the meaning becomes clear when you have been resident in the country for a while. The country's democratization process has been going on since the beginning of the 1990 and, although much has been done, a great deal remains. Some of the challenges facing South Africa are to reduce poverty and inequalities, consolidate democracy and promote respect of human rights. But the biggest challenge is probably to fight HIV and AIDS epidemics. As far as animals are concerned, poaching is the biggest problem, trophies and exclusive products are made of bone and animal skin, which has devastating consequences for biodiversity.
Practical for you as a volunteer
How do I book a trip?
You can book your trip with Volunteer Travels by calling us on (+46) 08-23 93 00 or by booking through our website www.volunteertravels.com by clicking on "Book a trip". You can also email us on [email protected] When you have registered yourself, we will send you an invoice with a registration fee of £200.00. The registration fee is later incorporated into the trip price and the amount is then deducted from your final invoice. When you have paid the registration fee you are formally registered. You will then receive preparatory information from us in good time to plan your trip.
Flight
Flight tickets are not included in the tour price. You can book flights through a travel agency of your choice, please just be sure to arrive at Port Elizabeth International Airport the Saturday or Sunday before you project start. Make sure to double check this and let us know of your travel arrangements.
Visas
It is the volunteer's responsibility to acquire the right visa for the trip. Different visa rules may apply depending on your nationality. Visit the embassy web page of your destination to find out what the visa terms are between your country and that destination.
Insurance
You are responsible to get insurance that covers you for illness, injury and theft while working as a volunteer in South Africa. You can get these options from the travel agent you book your flight ticket through. Included in your tour price with Volunteer Travels is insurance called "Living Abroad". This is classified as liability insurance and will cover you when you as an individual are required to pay for damages you unintentionally have caused, either to someone or to someone's property. Please feel free to email us at [email protected] for more information about this insurance.
Vaccinations
For any questions about vaccinations, you should contact a vaccination centre close to you or consult your doctor. We do recommend however, that you get Hepatitis A, B and tetanus (these are normally recommended when traveling abroad).